AAEON (parte del gruppo ASUS), Emutex e Intel hanno presentato durante la Maker Faire di Roma UP, la computer board dalle dimensioni di una carta di credito per il mercato dei maker professionisti. UP è una piattaforma progettata appositamente per i makers che accorcia il time to market dall'ideazione alla produzione in serie.
UP colma il divario tra il mondo dei prototipi e i sistemi embedded di serie di alta qualità, grazie all'utilizzo della più efficiente tecnologia presente sul mercato in un fattore di forma ultracompatto.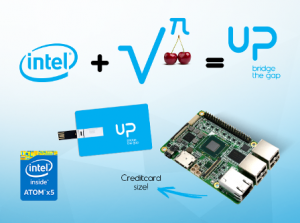 Up è alimentata dalla CPU Intel® Atom™ x5 Quad-Core 1.33/1.84Ghz 64 bit (formerly Cherry Trail), con 1GB/2GB RAM, espansione di 16GB/32GB eMMC, 40 GPIO, 4 @ USB 2.0, USB 3.0 OTG, Ethernet, HDMI, DSI e la funzionalità di sicurezza Intel su una sola scheda.
Progettata per accogliere il maggior numero possibile di comunità di sviluppatori di software, UP gira su Linux e presto funzionerà anche su Windows 10 e Android. Gli utenti di UP saranno supportati da una comunità online attraverso il sito www.up-board.org dove saranno disponibili tutorial e un forum di supporto. La comunità fornirà anche un servizio professionale dove potranno essere richieste e prodotte grandi quantità di board UP, inclusi i derivati personalizzati.
Carlo Parmeggiani, Retail Manager di Intel ha dichiarato: "Siamo molto orgogliosi di sostenere il lancio di UP. L'introduzione di UP aggiunge flessibilità alla comunità dei maker. Dal punto di vista del processore si può dire che rappresenta la Ferrari delle soluzioni. Sono certo che il mercato apprezzerà questo progetto e che sarà un grande successo".
Il fondatore del progetto UP e Managing Director di Aaeon Europe, Fabrizio Del Maffeo, afferma: "Siamo fermamente convinti che i makers scombussoleranno il mercato elettronico così come lo conosciamo oggi. Anche Bill Gates e Steve Jobs, che possiamo definire senz'altro dei maker, l'hanno fatto 35 anni fa; Elon Musk è probabilmente il maker più famoso e di successo del momento. Noi vogliamo mettere nelle mani dei maker di oggi un prodotto – UP – con cui possano liberare la propria creatività e fare in modo che le loro idee diventino realtà"
"Emutex è lieta di essere coinvolta nella realizzazione e nel supporto di UP. A nostro parere, UP rappresenta la più potente e competitiva piattaforma basata su Intel Atom sul mercato." Commenta John Twomey, Managing Director, Emutex "Si tratta di una piattaforma fantastica per innovatori e maker e in particolare per quelli che intendono riutilizzare la ricchezza della tecnologia basata sul software x86 disponibile oggigiorno. Aiuteremo gli utenti Linux fornendo loro una nuova versione della nostra distributzione ubilinux™ e li supporteremo attraverso la comunità proattiva di ubilinux. Per gli utenti che intendono utilizzare la loro piattaforma UP per le soluzioni di Internet of Things forniremo una versione gratuita della nostra piattaforma software ubiworx™ che consentirà loro di sviluppare rapidamente soluzioni di monitoraggio di sensori connesse al cloud."
UP è disponibile su KICKSTARTER dalla presentazione tenutasi il 16 ottobre. I sostenitori possono ordinare già ora le schede in anteprima a un prezzo scontato. Per ulteriori informazioni visitate il sito www.up-board.org.