Le schede SmartEverything offrono un supporto wireless che include la comunicazione LoRa per lo sviluppo Internet of Things
RS Components (RS), distributore globale di prodotti di elettronica e manutenzione, ha ampliato l'offerta di schede di sviluppo di alta qualità inserendo due nuove soluzioni SmartEverything di Arrow. La scheda di sviluppo SoM (System-on-Module) SmartEverything LION e la scheda SmartEverything ARIS supportano entrambe lo sviluppo di applicazioni Internet of Things (IoT).
La scheda SoM SmartEverything LION utilizza il fattore di forma Arduino e comprende un modulo Microchip LoRa che consente comunicazioni dati a bassa velocità su lunghe distanze. LoRa consente di collegare al cloud i dati di dispositivi come sensori e attuatori on-board per aggiornare dati e informazioni di controllo per applicazioni M2M e IoT. Tra le caratteristiche della scheda figurano: CPU Microchip ARM Cortex-M0+ a basso consumo e cripto-autenticazione Microchip, antenna da 868 MHz, modulo Telit GPS con antenna integrata, accelerometro MEMS e sensori giroscopici che offrono funzionalità supplementari per operazioni di tracciabilità e monitoraggio.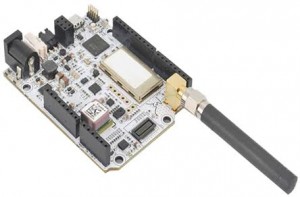 La scheda SmartEverything ARIS per IoT è una piattaforma hardware/software completa, basata sul microcontrollore ad alte prestazioni della serie Synergy S7 di Renesas, dotato di un processore ARM Cortex-M4 da 240 MHz, con memoria flash da 4 MB e SRAM da 640 kB. La scheda ARIS è uno strumento versatile, ha un ingombro compatibile con Arduino 3 ed è dotata di connessioni e shield di estensione Arduino che consentono l'aggiunta di componenti hardware supplementari.
La scheda ARIS comunica con altri dispositivi e col cloud via Ethernet 10/100 o USB, e offre una connettività wireless mediante protocolli Wi-Fi, Bluetooth Smart (BLE) e NFC. Sono disponibili sensori di temperatura e umidità, mentre il movimento è controllato da un accelerometro e un giroscopio a due assi collegati mediante il bus SPI. Tra gli altri dispositivi on-board figurano una memoria flash seriale da 512 MB e una SDRAM da 32 MB, un tag NFC Forum di tipo 2 a risparmio energetico, con pin di rilevamento campo e interfaccia I²C e un controller touchscreen resistivo a 4/5 fili multi-touch con sensore di prossimità. La scheda offre anche interazione e accesso mediante pin GPIO, LED e pulsanti.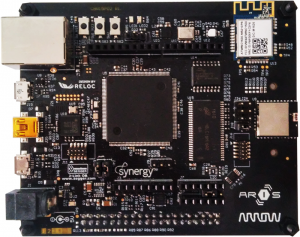 Tra le funzioni dedicate allo sviluppo delle schede figurano il debugger J-Link on-board, il supporto per i bootloader crittografici e gli aggiornamenti firmware OTA (Over-The-Air). I progettisti possono concentrarsi sullo sviluppo delle applicazioni usando le utili funzioni disponibili sulla piattaforma ARIS, tra cui l'ambiente di sviluppo integrato (IDE) Renesas Eclipse Embedded Studio (e² Studio).
La scheda SoM Arrow SmartEverything LION e la scheda Arrow SmartEverything ARIS per IoT sono disponibili da RS nelle regioni EMEA e Asia Pacifico.