La manifestazione organizzata da Zerynth si terrà l'11 Ottobre a Pisa presso il GATE Center
RS Components (RS), distributore multicanale globale di prodotti di elettronica e manutenzione, sarà sponsor dell'edizione italiana di The Things Conference. L'evento, organizzato da Zerynth, azienda leader negli strumenti di sviluppo IoT, si terrà l'11 Ottobre 2018 presso il GATE Centre, un aggregatore di imprese al centro della Cittadella Galileiana di Pisa.
Il tema principale della conferenza sarà "Python e LoRaWAN per le applicazioni IoT e Industria 4.0.", si parlerà di reti a ridotto consumo energetico con coperture di decine di km, in grado di abilitare progetti di Industrial Internet of Things e Industry 4.0 in settori diversi, come Smart City, agricoltura di precisione, gestione dei rifiuti e monitoraggio dei beni e delle risorse.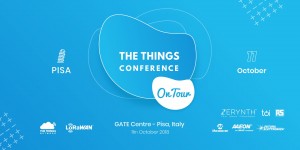 L'evento fa parte dell'Internet Festival, una delle manifestazioni più importanti a livello nazionale nel campo delle nuove tecnologie. La conferenza include inoltre interventi di esperti provenienti sia dall'industria che dall'ambito universitario, che presenteranno lo stato dell'arte e le prospettive future della tecnologia LoRaWAN.
La conferenza è un evento inclusivo in cui tutti i partecipanti hanno la possibilità di acquisire un'esperienza di vita reale con l'ecosistema LoRaWAN. Durante la giornata sarà possibile toccare con mano i tool di sviluppo messi a disposizione da aziende leader nel settore attraverso workshop e "hands on" organizzati da Zerynth, in collaborazione con The Things Network, Microchip Technology, RS Components, AAEON Europe, ResIoT, TOI – Things On Internet, e altri importanti player del settore.
RS Components Italia sarà inoltre presente all'evento con un proprio stand.
I biglietti per partecipare all'evento sono acquistabili qui.