La quattordicesima edizione dell'unico evento italiano dedicato al settore dell'elettronica di potenza
si terrà a Reggio Emilia il 20 e 21 settembre 
Domani 20 settembre, presso l'esclusivo showroom "Ruote da Sogno" a Reggio Emilia, si terrà la quattordicesima edizione del Power Fortronic, l'evento di riferimento per chi opera nel settore dell'elettronica di potenza in Italia.
La giornata sarà incentrata sul Manager Strategic Innovation Summit, il convegno dedicato ai manager che vivranno un'esperienza e un'occasione unica per aggiornarsi e scoprire analisi e vision di mercato per impostare le proprie strategie innovative per il futuro.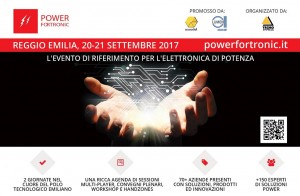 A inaugurare il Summit sarà Milan Rosina, analista di Yole Devéloppement, con un intervento dal titolo: "From Technology to Market, How will the Power Electronics reshape the industry playground?", seguito poi dal CTO di Energica Motor Company, il primo costruttore di moto elettriche supersportive Made in Italy con sede a Modena.
Tra gli altri partecipanti al convegno, interverranno gli esperti di Fabbrica Futuro, il progetto dedicato alle imprese che ha come obiettivo mettere a confronto le idee, raccontare i casi di eccellenza e proporre soluzioni concrete per l'innovazione.
Di seguito il programma completo per la giornata di Mercoledì 20 settembre:
Ore 14.00: Inizio dell'evento e Area Espositiva
Dalle 14.30: alle 16: Workshop e Arene
Ore 16.00: Manager Strategic Innovation Forum
Ore 16.05: Strategic From Technology to Market, How will the Power Electronics reshape the industry playground? Milan Rosina, Yole Developpement
Ore 16.40: The Energica Formula. Behind the scenes of the leading street-legal high-performing electric motorcycle: heritage, technology, fast-charge, R&D and new products. Livia Cevolini, CEO e Giampiero Testoni, CTO Energica Motor Company S.p.A.
Ore 17.10: Meccatronica e industria 4.0 Maurizio Brevini, Presidente CLUB MECCATRONICA di Unindustria Reggio Emilia
Ore 17.40: Fabbrica Futuro: percorsi ed esperienze di innovazione. Dario Colombo, Caporedattore ESTE.
Ore 18.10: Tavola rotonda modera Maurizio Maitti, Assodel Presidente Gruppo Elettronica
Ore 19.00: Chiusura lavori
La partecipazione all'evento è gratuita, per maggiori informazioni, consultare il programma completo dell'evento e registrarsi consultare il sito https://powerfortronic.it/
Info Utili:
COME RAGGIUNGERE IL CENTRO CONGRESSI:
Via Daniele da Torricella, 29 Reggio Emilia
Treno
Collegamenti ad alta velocità grazie alla stazione MEDIOPADANA di Reggio Emilia.
Servizio di navetta da e per il centro congressi in concomitanza con l'arrivo dei principali treni da Milano e da Roma
Aereo
L'aeroporto più vicino è quello di Bologna, ma grazie al collegamento con la linea ferroviaria ad alta velocità, il centro congressi è raggiungibile facilmente da tutti i maggiori aeroporti
Auto
Autostrada A1 – uscita Reggio Emilia. Per chi raggiungerà l'evento in automobile ci sarà la disponibilità di un ampio parcheggio adiacente alla location.