Il prossimo 28 giugno a Modena occhi puntati sull'elettronica di potenza
Se parliamo di elettronica di potenza esiste un solo evento in Italia capace di racchiudere al suo interno il concentrato di novità tecnologiche e soluzioni del settore: il Fortronic Power, la giornata verticale organizzata da Assodel (Associazione Distretti Elettronica – Italia) e giunta quest'anno alla sua 15a edizione.
L'evento, in programma il prossimo 28 giugno  nel Padiglione C di ModenaFiere, si preannuncia ricco di contenuti rivolgendosi in maniera privilegiata a tecnici, FAE e PME.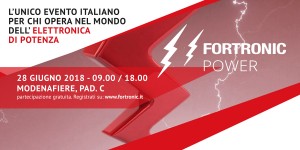 Tra gli argomenti di spicco della manifestazione, verrà dato particolare risalto a Power Management, Inverter e Energy Storage, senza dimenticare importanti temi come IGBT, SJ-Mosfet e power module, wireless charging, medicale e diagnostica, thermal management, EV/HEV e molto altro.
Anche SiC e GaN troveranno ampio spazio nei dibattiti e nelle conferenze in programma, visti i trend di crescita che stanno vivendo queste due tecnologie. Basti pensare che secondo Yole Développement, la tecnologia SiC raggiungerà 430 milioni di dollari di fatturato mondiale nel 2018, con una crescita media annua del 28% da qui al 2020 e del 40% dal 2020 al 2022. Il gallium nitride (GaN), stimato attualmente in soli 12 milioni di dollari, passerà invece a un valore di 450 milioni nel 2022 con una crescita annua dell'84%.
UN CONCENTRATO DI TECNOLOGIA
Nel Padiglione C di Modena Fiere, le oltre 70 aziende presenti daranno vita a un'ampia area espositiva. Tra le novità, la presenza di un piccolo laboratorio, creato grazie alla partnership tra Tektronix, Giakova ed Eggtronic (giovane start-up specializzata in dispositivi wireless) che equipaggeranno un banco di misura dedicato ad applicazioni Wireless Power Transfer, Wireless Charging e Data over Power.
Fiore all'occhiello dell'evento saranno le due sessioni plenarie, organizzate come "lunch conference" concomitanti a partire dalle ore 12. La prima, dedicata agli High Power Devices vedrà la partecipazione di aziende quali AMI GE, Green Power Solutions, Usci, Elettromeccanica ECC, Fuji Electric, STMicroelectronics, Rohm Semiconductors e Tektronix. Tra gli interventi più significativi, l'approfondimento dell'esperto Bernardo Sainz, direttore Motor Drives Division di AMI General Electric che parlerà di "Pilotaggio motori AC-DC per applicazioni di alta potenza".
La seconda conferenza plenaria sarà dedicata al Power Management e ospiterà gli interventi di Wolfspeed, Infineon, Rutronik, Recom, e SGE-Syscom.
Durante tutta la giornata sarà inoltre possibile partecipare ai workshop tecnici e alle arene multi-player. Oltre ai tre educational – momenti formativi per eccellenza – in programma nel pomeriggio: "Display per ambienti industriali e ostili" by PowerTip/Consystem, "Power supplies: Industrial and Medicals – certification changes and new monitoring option" by SGE-Syscom, "SiC Technology: Innovation by Infineon for Energy Storage and Drives" by Infineon.
La partecipazione all'evento è gratuita previa registrazione su: https://fortronic.it/